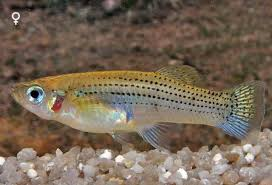 Gambusia is a large genus of viviparous fish in the family Poeciliidae. The type species is the Cuban gambusia, G. punctata.
Gambusia contains over 40 species, most of which are principally found in freshwater habitats, though some species may also be found in brackish or saltwater habitats.
Gambusia species are often called topminnows or simply gambusias; they are also known as mosquitofish, which, however, refers more specifically to two species, G. affinis and G. holbrooki. These can be introduced into ponds to eat mosquito larvae. As a consequence, they have been introduced widely outside their native range, and frequently become invasive, threatening the local species. They are only occasionally kept in aquariums, due to their relative lack of colour and the highly aggressive nature of the aforementioned mosquitofish species.
Gambusia affinis
Gambusia alvarezi
†Gambusia amistadensis
Gambusia atrora
Gambusia aurata
Gambusia baracoana
Gambusia beebei
Gambusia bucheri
Gambusia clarkhubbsi
Gambusia dominicensis
Gambusia echeagarayi
Gambusia eurystoma
Gambusia gaigei C. L. Hubbs, 1929
Gambusia geiseri
†Gambusia georgei
Gambusia heterochir
Gambusia hispaniolae
Gambusia holbrooki
Gambusia hurtadoi
Gambusia krumholzi
Gambusia lemaitrei
Gambusia longispinis
Gambusia luma
Gambusia manni
Gambusia melapleura
Gambusia monticola
Gambusia myersi
Gambusia nicaraguensis
Gambusia nobilis
Gambusia panuco
Gambusia pseudopunctata
Gambusia punctata
Gambusia puncticulata
Gambusia quadruncus
Gambusia regani
Gambusia rhizophorae
Gambusia senilis
Gambusia sexradiata
Gambusia speciosa
Gambusia vittata
Gambusia wrayi
Gambusia xanthosoma
Gambusia yucatana
Gambusia zarskei